What Everybody Ought to Know About Aerial Work Platform Inspections
Equipment inspections are one of those routine tasks that are easy to overlook, but they are critical. Conducting proper aerial work platform inspections enables operators, mechanics and fleet managers to better maintain their fleet and confidently deploy assets knowing they are safe for use.
To be in compliance with the American National Standards Institute (ANSI) requires periodic and annual inspections on aerial work platforms. Annual inspections must be performed by a qualified mechanic with knowledge of the specific type of aerial equipment or one of similar design characteristics, as outlined in ANSI provisions A92.6 and A92.5 section 6.6. These records are then to be kept for at least five years.
Why Keep Records?
The primary reasoning is that in the event of an accident, authorities including the Occupational Safety and Health Administration (OSHA) will seek these inspection records as part of their investigation. If you are unable to provide proper documentation you may be subject to financial penalties as a result.
To ensure that you are keeping accurate records that are easy to access, completing inspections digitally is the best solution. Digital records don't clutter your office space, plus when you need them they can be retrieved and shared in seconds.
You can find more information about benefits of digital inspection forms here.
What to Inspect and When?
Annual inspections are in-depth inspections covering the structural components of the equipment. The second purpose is to review safety items like decal legibility and placement.
Periodic inspections under ANSI are required every "3 months or 150 hours" (whichever comes first). The inspections should cover items that affect the usability of the asset at the time of inspection. These inspections likely include engine and hydraulic oil levels, parking brakes, lights, safety features, boom, and platform controls.
Ideally, teams should also inspect aerial assets before and after each rental. Inspections before an asset goes out on rental should cover functionality and safety features to ensure reduce risk of an accident and mitigate your liability. Inspections upon asset return benefit for mostly for better visibility into fleet status.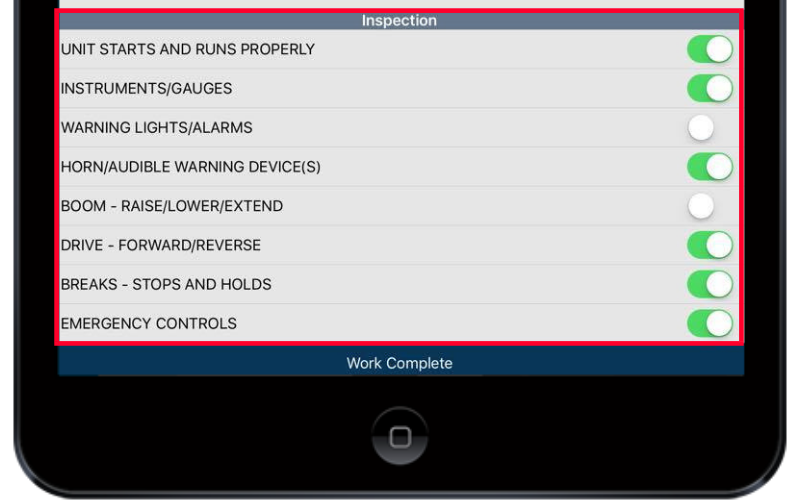 For more information on the importance of ready-to-rent inspections you can also read Schrödinger's Bobcat: Is Your Fleet Dead or Alive?
Added Benefits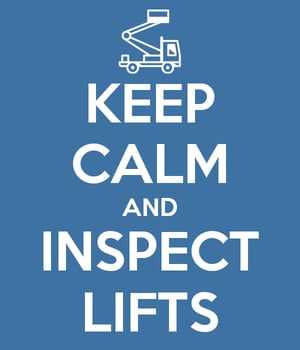 Everyone knows that a well maintained asset will have a higher resale value. Inspection forms are a great source of proof of condition over time that can help you get the most out of the resale of your assets.
Being known as a company that frequently inspect their equipment can also boost your reputation. Customers value safety, especially when it comes to working at heights. So by inspecting your equipment regularly their confidence and trust in you as a provider will sky rocket.
Overall, these simple tasks can only provide positive benefits to your business. Between customer confidence and mitigating your liability in the case of an accident, the investment in a five minute inspection process is repaid tenfold in the long run.