Six Ways to Upgrade Your Rental Company Website This Holiday Season
A couple of years ago, I tried doing my Christmas shopping entirely on Amazon. To my delight, I picked out some great gifts and paid for them online.
My entire life, I had the same holiday shopping habits...
I drove to a mall, got frustrated trying to find parking, and searched chaotically through endless stores to find the perfect gifts. When I think back, it's hard to believe the pain I went through to find presents for my family and friends.
However, Amazon had suddenly made my life simpler by allowing me to buy everything I needed online. Now, when it comes time to buy someone a gift, they're the first place I check.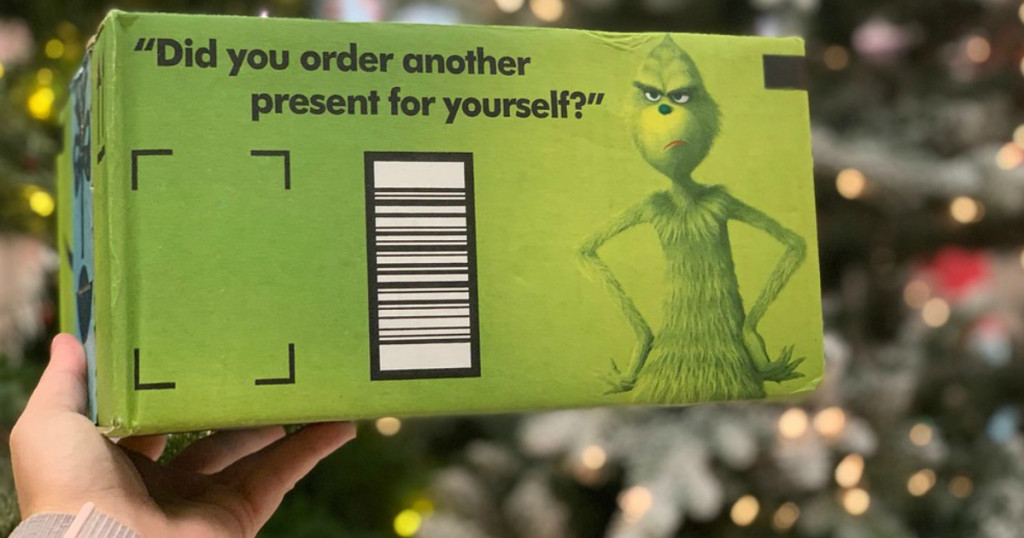 So, what does buying Christmas gifts online have to do with your rental business?
Well, equipment rental is one of the final frontiers of e-commerce. It is still a relatively small part of the business today, especially when compared with other industries that have been massively disrupted by online consumer behavior, but it's growing fast.
With the popularity of online marketplaces like Amazon, people have begun to expect instant access to businesses and their services around the clock.
When a contractor remembers he needs 2 skid steers at 5 AM on the day of a job, what will he do?
He might look to reserve a pair of skid steers online.
He'd go to Google, type... rent skid steers near me
and just like with Amazon, our contractor is going to find everything he needs online.
(NOTE: Watch our on-demand step-by-step walk-through of Texada's online customer access website extension to see how your customers can connect with your rental company online.)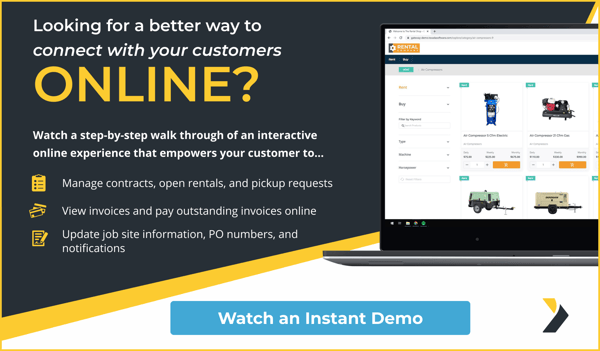 He got his skid steers requested for the weekly rate with his regular 15% discount, without having to wait and call the shop at 7 AM.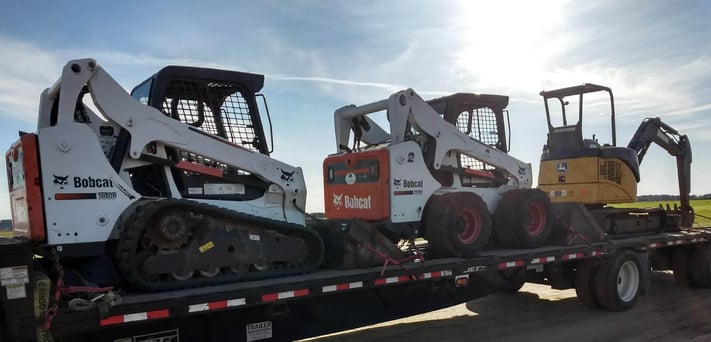 When the shop opens, we confirm the reservation for the skid steers, our contractor gets a confirmation email, and we send them out for delivery.
Surprisingly, most independent rental companies still don't offer this sort of online rental experience to their customers.

Some are living reminders of web design in the early 2000's, while others have taken a more modern visual approach but also lack actionable functionality.
As a rental company, your customers trust you to provide them a safe and reliable service. When they need assistance, you are ready to answer their call to action.
But when your website is an online catalog, filled with pictures of equipment and a phone number to call for a quote?
Maybe they would call and leave a message...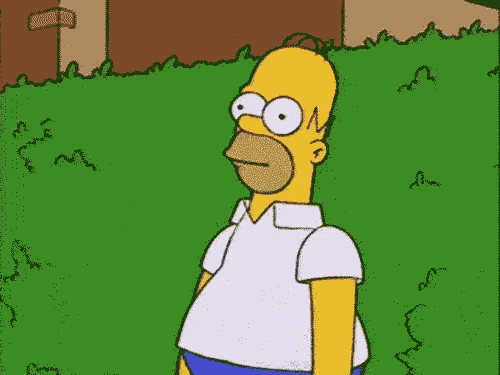 OR they can click back to Google and try the next search result.
With younger generations being accustomed to online connectivity, customers will continue to want simplified ways of doing business.
We know Amazon started out selling books on a website. A little less complicated than renting a mini-ex to a landscaper. But, they both connect people who are already online to what they want in an actionable way.
Being able to take action on a rental company's website helps customers engage with the business.
Here are six ways that your rental store website could change the way customers rent with you this holiday season.
Signing up for an account

Request rentals online

Manage open contracts

View and pay invoices with credit cards

Update job site information

Manage notifications and reminders
(NOTE: Watch our on-demand step-by-step walk-through of Texada's online customer access website extension to see how your customers can connect with your rental company online.)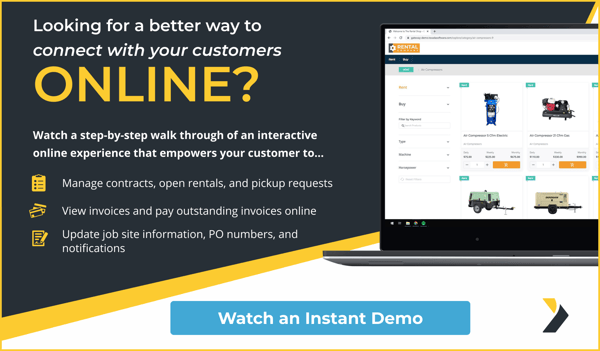 Signing Up for an Account
Everyone that wants to rent online from The Rental Company will need an account. Just like a new customer that walks into the shop for the first time, we have to make sure we cover the basics.
For customers already on file, their new account will connect with their existing account information and give them access to existing data.
By signing up for an account, customers gain the ability to reserve equipment from The Rental Company, call a piece of equipment off rent, request a pickup, extend rental periods, and so on without ever calling the office.
Request Rentals Online
Eric is a local college student. He does landscaping work in the community during the summer months and has always been a great customer for The Rental Company.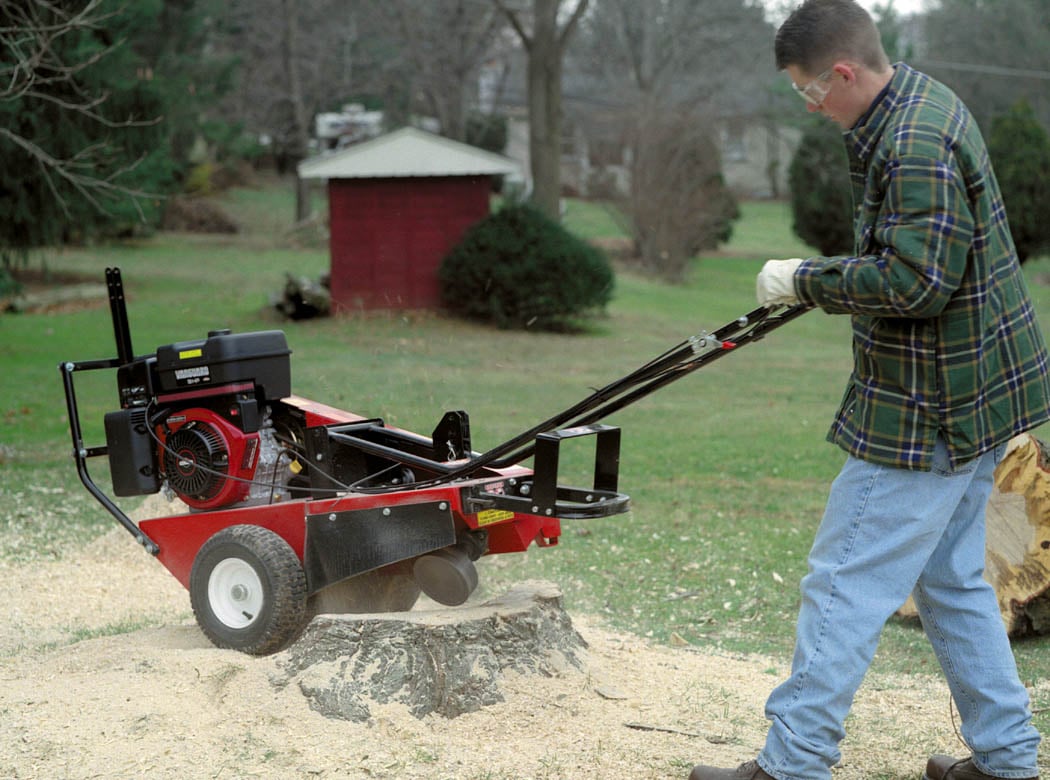 Every night after dinner, Eric plans out his jobs for the next morning. As he is looking over his schedule, he realizes he will need a stump grinder.
He goes to The Rental Company website, and he can search through their inventory to find the stump grinder he needs.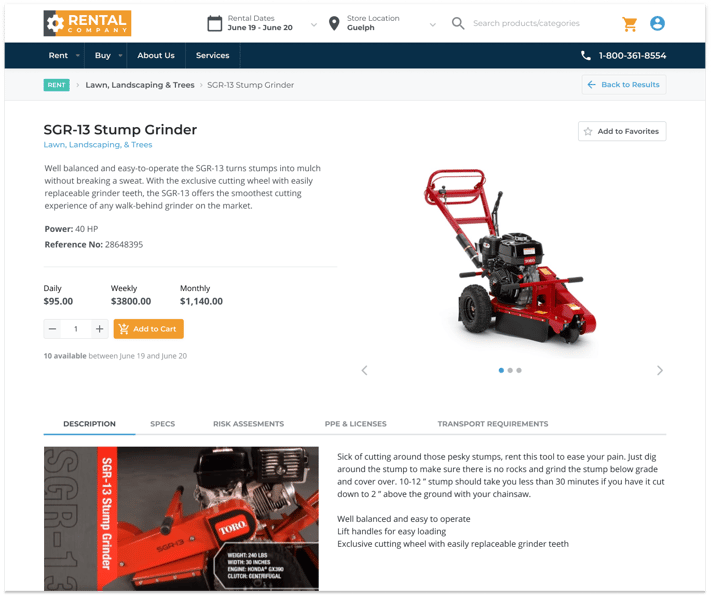 Eric can see daily, weekly, and monthly rates at a glance. The path to a successful rental clearly laid out for him in a familiar e-commerce layout.
Comparing specs, reading descriptions, and watching videos from within the product page reassure Eric that he's made the right decision on his own.
With his reservation placed, Eric is ready for the morning, confident that he'll have the tools he needs to complete his jobs.
Manage Open Contracts
For contractors, the ability to review and manage their open contracts at any given time helps them efficiently balance multiple jobs at once.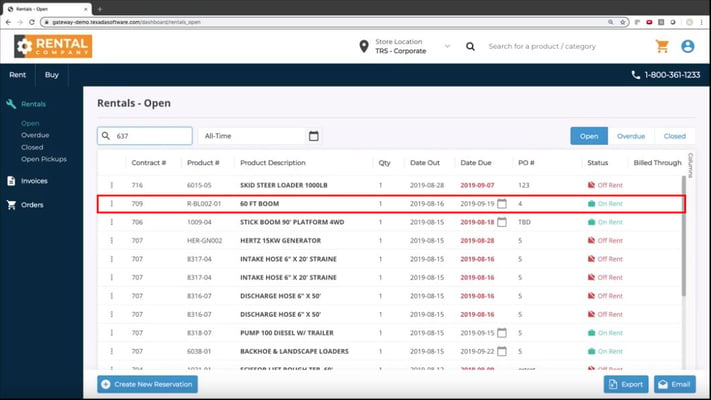 When Frank was looking over his open rentals on The Rental Company's website, he noticed that he has a 60' Boom lift on site that can be taken off rent.
Within a few clicks, the scissor was off-rented, and a pickup request has been sent to The Rental Company.
Pay Invoices Online
Every customer has invoices to pay, but traditionally, it hasn't always been a smooth workflow for either party.
Part of Anne's job is to collect outstanding receivables for The Rental Company.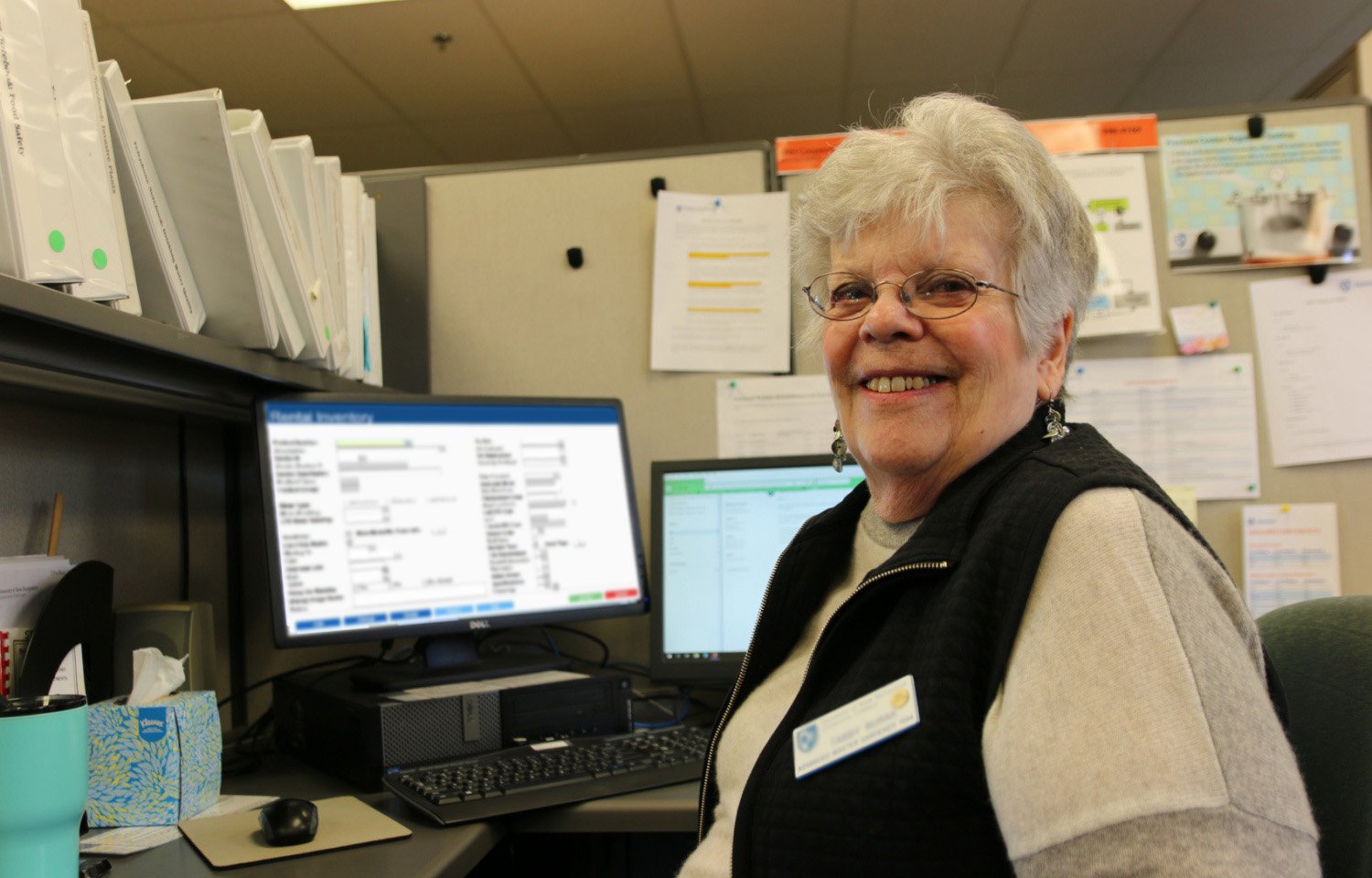 In the past, Anne would spend dozens of hours every month, calling customers and re-sending invoices by email.
Then, she'd wait for another 2 to 6 weeks for a cheque to show up in the mail before she could complete the payment process.
Now, just like shopping on Amazon, with The Rental Company's online access, Anne's customers can review and pay any outstanding invoices online with a credit card.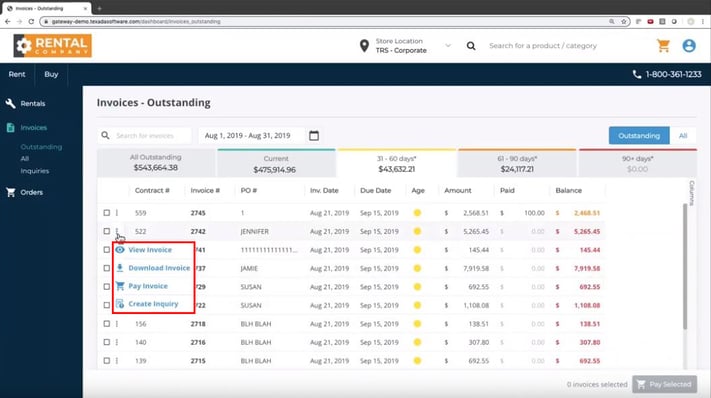 The payments are collected securely in real-time and tracked in The Rental Company's rental management software.
Update Job Site Information
Frank is trying to close out a big project with the city before the holidays, but he needs to update the purchase order number on a contract to match the job.
It's 6:17 PM on Tuesday, but Frank wants to send the final documents to his client first thing in the morning.
With his online rental account with The Rental Company, Frank can quickly update his PO number and finalize his documents.
Similarly, if Frank had needed to change any details about the job site, he could have updated that information as well.
Manage Notifications and Reminders
The ability to control notifications and reminders helps customers engage with The Rental Company at meaningful moments in time.
Frank always sets a reminder for two-days before a piece of equipment is due back on a contract.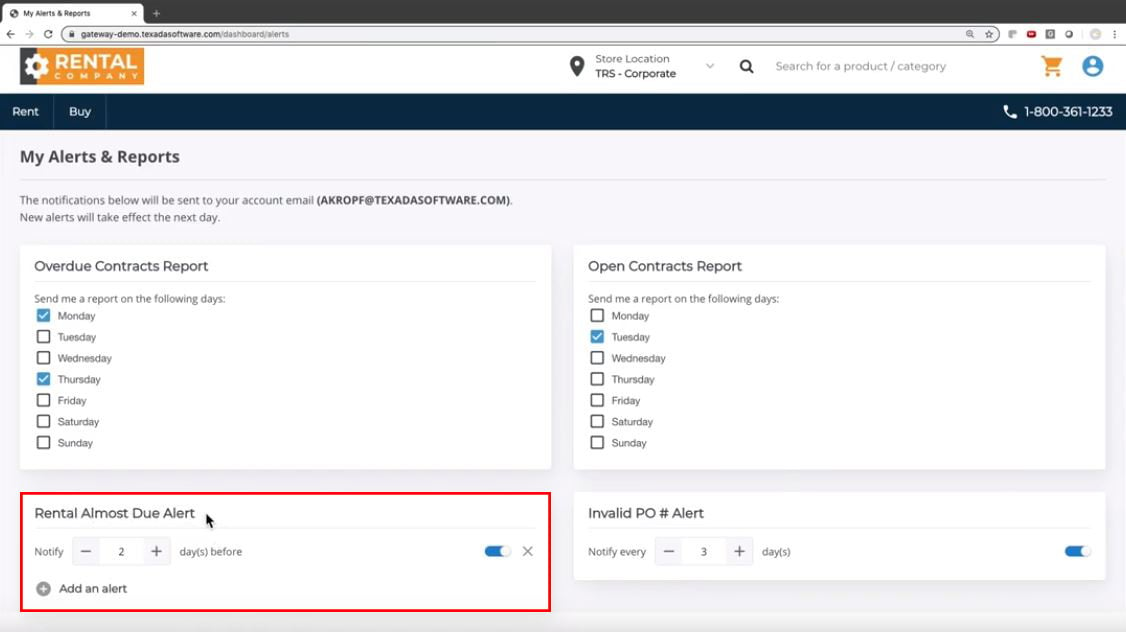 This provides him the time he needs to decide if he wants to extend the contract or take the equipment off-rent.
As e-commerce continues to grow, the pressure increases to turn your online customer experience into a reliable online marketplace for local equipment rentals. That's why we created Texada GateWay. This dual-purpose website add-on gives your customers the power to manage their existing accounts and shop online with you.
(NOTE: Watch our on-demand step-by-step walk through of Texada's online customer access website extension to see how your customers can connect with your rental company online.)