Four Game-changing Benefits of Texada Pay
Texada Pay provides Texada's customers the ability to process credit cards and ACH payments directly within their applications and Texada's e-commerce store and Customer Portal solution, called Gateway.
Transaction processing, payment history and reporting data are now readily accessible.
Texada Pay will allow for effortless payment transactions at your equipment rental shop. Payment processing will be faster, more accurate, and easier than ever!
Below are four immediate benefits of Texada Pay and how it will transform your operation.

Integrated Payments
When you have a customer at your counter and you have generated an invoice, whether it's from a work order, sales invoice, or rental return... it doesn't matter.
Instead of seeing the total in our rental management platform, then manually entering the amount into your machine, the customer entering their card, and then you having to enter this payment into the system, this all happens with the click of a button.
You click the payment method in our platform, the amount automatically shows up on the machine, and once they complete their payment it is automatically applied in the system.
It's easy and instant.
No more manual entry or room for error. It's centered around keeping your revenue uninterrupted.
Auto-Pay
With the new auto-pay function, you can now save a card to a cash customer and then be able to use that card on invoices, during rental return, or even in cycle billing.
This is great for customers who prefer to pay later, but don't want the hassle of filling our credit application forms, plus you get paid right away!
After running cycle billing, our software will automatically generate invoices for these auto-pay customers and charge their cards. If unable to charge their cards, you will be given a list of unpaid invoices to follow-up on.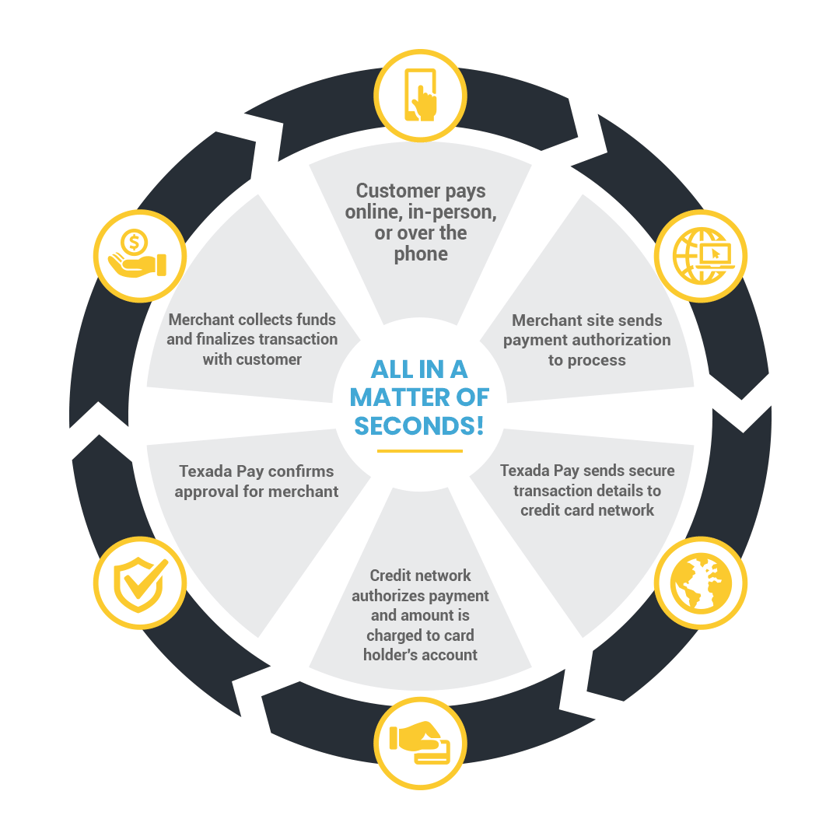 Customer Card on File
Tired of chasing customers for payment on late invoices?
With Texada Pay's card on file, you can capture payment information and keep it on file for future usage. For example, a customer can call in payment information and allow you to use it in the future to pay off their outstanding invoices.
This information can be used to set up recurring or pre-arranged payments (PAP) to simplify recurring transactions. Customers can also pay through a variety of different methods: e-link, online, phone or in-person.
Texada Pay uses Decline Minimizer technology, which is a card updater service unlike any other in the market. Decline Minimizer automatically updates expired and outdated card-on-file information daily. You are notified when customer contact is needed.
Supported Payment Types
With the initial launch of Texada Pay, it will support credit and debit cards in the USA and Canada, as well as ACH (direct bank withdrawal) in the USA.
Texada Pay uses EMV technology, or chip cards, which is the safest method of payment available on the market today. Payments are tokenized and encrypted. This limits liability and potential losses for your rental shop.
Over the coming months, Texada Pay will be adding support for all payment method types in Australia, New Zealand, and direct bank withdrawal in Canada.
Processing Fees
Texada Pay offers competitive processing fees for both when the customer is in front of you (card present), when the customer is no longer there (card not present), and direct bank withdrawals.
If getting paid faster and more efficiently interests you, please contact us for your detailed Texada Pay quote.