What is Software as a Service and how does it apply to the equipment rental industry?
Software as a Service (SaaS), is a licensing model in which software is delivered to the user through the internet from a web browser or a mobile app store that can be accessed by multiple devices (e.g. laptop, desktop or other mobile device). Data is stored in the cloud or on servers that are not managed by the user.

The reason SaaS has become such a standard method of providing software is that SaaS transfers the pain of ownership from the user to the software company. Before SaaS, you often had to buy the software, download it onto your machines, maintain those machines, create backups, and protect the data from unauthorized access.
With SaaS, the user is, in a sense, "renting" the software. The data you input is yours, and there are government protections on securing data privacy. But like renting equipment, you are not responsible for maintaining the software, upkeeping servers, backing up data, or upgrading to a new version. Your basic requirement is to have a good internet connection and to operate a device that the software can be installed and displayed.
SaaS pricing model
Like an equipment rental, the pricing model for SaaS is based on recurring " rental fees" or what is known as perpetual licensing fees. In other words, the user gets to use the software for the duration of the time they are paying for the monthly license. The licensing terms can vary (daily, weekly, monthly, annually), but you no longer own the software. You pay for access and use without the burden that comes from ownership, like equipment rental.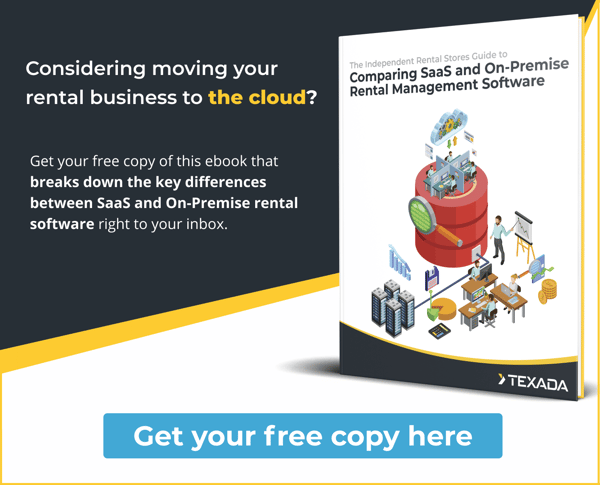 Why SaaS is an important tool to run your business
Why does any of this matter to a rental company? Here are three key reasons why SaaS rental management software can be essential for managing your business.
SaaS allows you to focus on your business and worry less about IT since there is minimal to no software maintenance required. Why try to figure out what servers to buy, what online protections to get, and how to back up each server when you need to focus on your rental customers, optimize your fleet mix, and keep your employees happy and engaged? SaaS often serves to simplify IT.


You have a digital record of all of your essential business data such as customers, invoices, work orders, delivery and pickup tickets, and other information that would typically be tracked on stacks of paper. It simplifies the way information is organized, retrieved and transferred. All of that data is stored and backed up in the cloud, so the data is available almost instantly.


The upfront cost is lower than ownership because you are paying licensing fees, which are often much lower than if you had to own the software outright. If you need to add more users, you normally pay additional user fees, as opposed to ownership where you may have to buy additional software.
How to identify the right SaaS partner
One downside to SaaS is the perception of limited control. If you have on your team a rockstar IT specialist who can perform hardware and software setup, manage servers, and is informed on data security, it is possible to manage your business with on-premise software. However, if that is not the case, one way to make you feel like you have the right SaaS partner, you can ask the following questions:
How long has the company been serving your industry? The longer the time, you can assume that they have gathered knowledge about the rental business and can talk your language.


How accessible is the customer support team? Often, software companies outsource their customer service to overseas contractors. If the company still supports its services in-house and are responsive to your requests, this is a good sign that they care about the customer experience and have more streamlined communication between support and development.


How open are they to developing new features? Every company has slightly different ways they use the software. If a company provides consistent updates to their product, and they take your feedback seriously, it means they want to grow their business with you and serve your needs as a customer.
For all these reasons and more, a rental company should consider SaaS to manage all aspects of the rental process, build efficiency into their operations, and ensure the company is prepared for growth.