What Does Implementation Look Like at Texada?
Here at Texada, we work hard to ensure that each new customer is set up for success with proper implementation and training. Our goal is to make the software transition as smooth as possible by giving a tailored experience based specifically on the needs of your business.
We wanted to break down the different phases of implementation to help paint a picture of what to expect.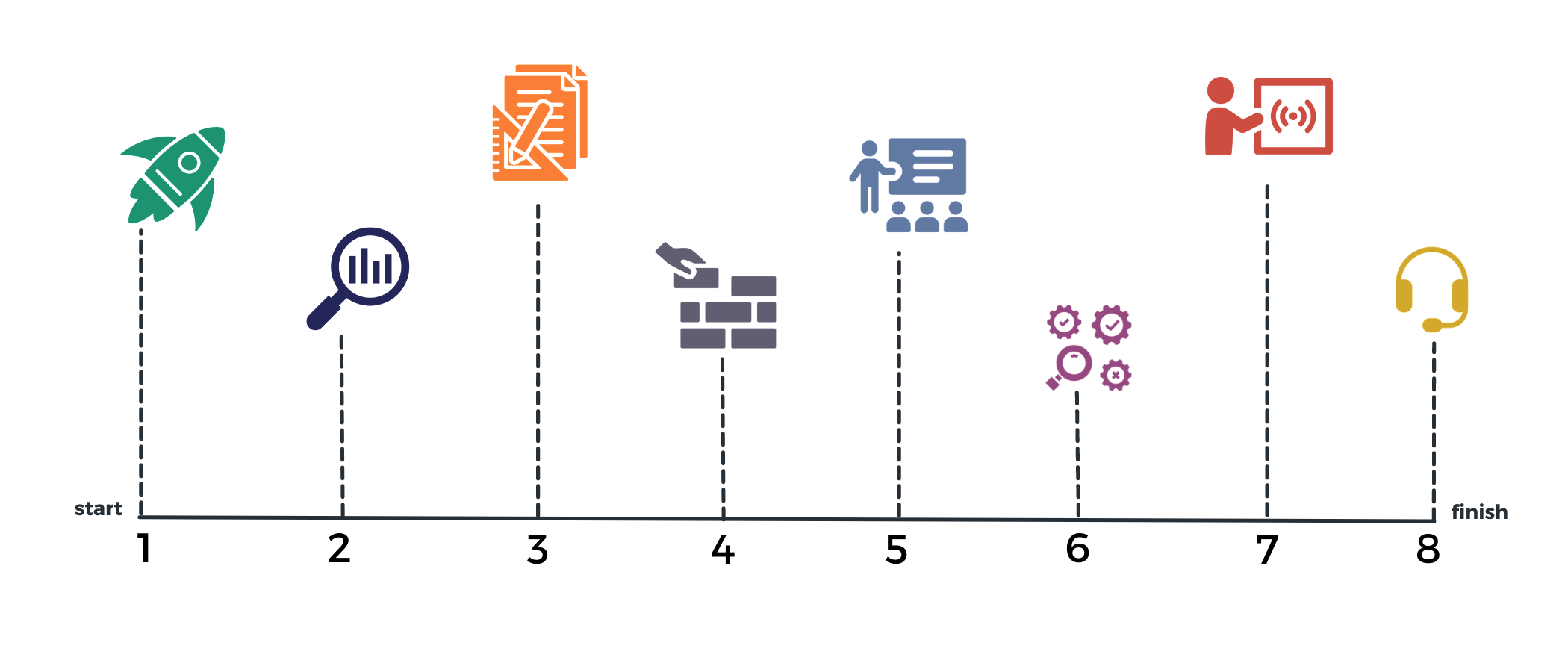 Phase 1: Project Launch
To launch forward the Texada Project Team, processes, and communication plans are clearly outlined. We work with you and your team on identifying the goals and deliverables for the implementation process so that the expectations are clearly defined for everyone involved.
Phase 2: Business Process Analysis
Our Project Team meets with your system owners and users to better understand the specific business requirements, processes, and formats of the existing documents and software you may be using. The purpose of this phase is really to get to know and grasp what your business needs are in order to use the Texada platform successfully.

Phase 3: Solution Design
With the solutions defined in detail, the Project Team members will create test procedures for business functions and data conversion. Supporting business requirements may require building application extensions to standard features, these enhancements or extensions will be specified/approved during this phase. While new system designs are being finalized, the application and technical architecture begin to form!

Phase 4: Solution Build
Based on the results of the design phase, your Texada platform starts taking shape. Your data is imported and the conversion processes are executed. If customizations, extensions, or workarounds are required, they will be implemented during this phase.

Phase 5: Training
In order to hit the ground running before deployment, we equip your company with the proper training to ensure that each user is comfortable navigating the Texada platform on their own. The training starts with a general overview and is later broken down into roles and/or departments where we teach the different users how to carry their day-to-day activities out in the application.

Phase 6: Validate
Now it's time to test! Testing happens in a series of pilots, during the first pilot, basic setups and functionalities are tested. In the second, converted or entered data, revised setups, and end-to-end business processes are tested. Thorough unit testing and system integration testing are also performed.

Phase 7: Deploy
Ready, get-set, go live! The Project Team will deploy the finished solution into your organization. The transition will be complete when data is converted, and end-users have started to use the new software. When everything is stabilized, regular maintenance and system refinement begin.

Phase 8: Support
For a long lasting partnership with us and your company, our Texada project team introduces you to our support team to provide long-term customer care. There are several services that are available to you once the implementation phases have been completed. These include Health Checks, Business Process Consulting, Advanced Education, Product Extension/Integration, and Onsite Support.
If you're curious to learn more about the implementation process at Texada, please speak with one of our Texada Project Team members by emailing services@texadasoftware.com.