iQuote: Display Standard Job Serial Number and SMCS Codes
This feature is available to all dealers and can be switched on and off using the following public configuration key: ckPackage.StandardJob.ExtraDetails.Visible. The default value is Off (No).
When viewing a Quote in iQuote, more information is now available for the Standard Jobs included on the Quote, including model, serial number, and SMCS codes!
View Standard Job Serial Numbers and SMCS Codes
To view the new information included under Standard Jobs:
Log in to Texada CloudLink and open iQuote.
Click on the Quote No of the Quote you'd like to view.
Switch to the Configuration tab, then scroll down to the Standard Jobs section and look to the right of any Standard Job included on the Quote. Additional information on each Standard Job is now available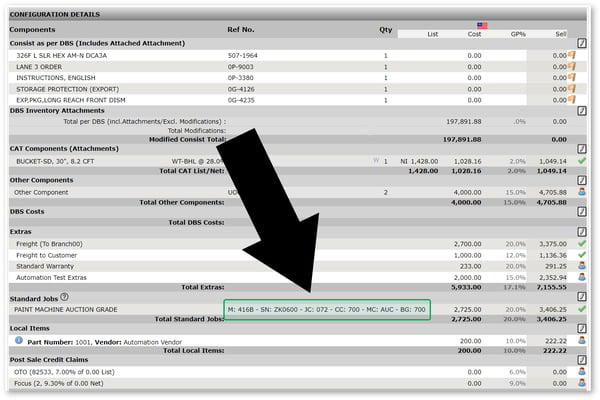 This information is also included in the Quote Configuration export file. Once you have exported your Quote to Excel, scroll down to the Extras section and look under column C.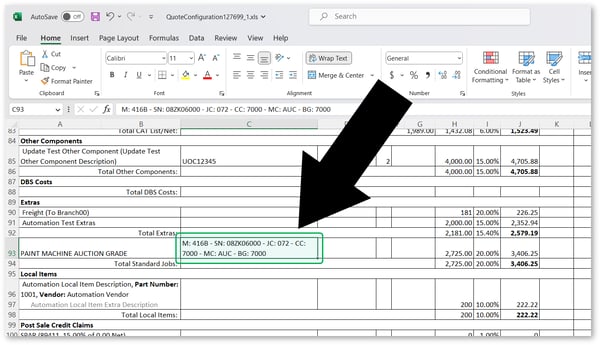 Information Key
The information available for each Standard Job is as follows:
M: Model
SN: Serial Number
JC: Job Code
CC: Component Code
MC: Modifier Code
BG: Business Group
If you ever need a reminder of what these acronyms stand for, simply click the question bubble icon

to the right of the Standard Jobs header to view a legend: