Import Pre-Built Inspection Forms into SRM
Making inspection forms from scratch is a thing of the past! With the new functionality added to Texada Mobile, you can now import pre-built inspection forms into SRM and use them in Texada Mobile in moments. To learn more about these pre-built forms, click here, but if you're already up to speed on Texada Mobile's newest features, read on to learn how to start using these forms in minutes.
Step 1: Download the Inspection Form
If you've already read the post linked above and downloaded your forms, you're ahead of the game. You can move on to the next step. If not, no worries! Click the button below to be redirected to the Texada Knowledge Center page that hosts a library of forms and more instructions on how to use them.
Step 2: Extract the Inspection Form
The file(s) you just downloaded will be in .zip format. Depending on your browser's settings, you may have been prompted to select a location for the downloaded file, or it may have been automatically downloaded to your "Downloads" folder. Once you've found the file, right-click it and select "Extract All…"
Select the folder you want the extracted file to live in, then click "Extract." The extracted file will be in a .txt format, which you will import into SRM in just a bit.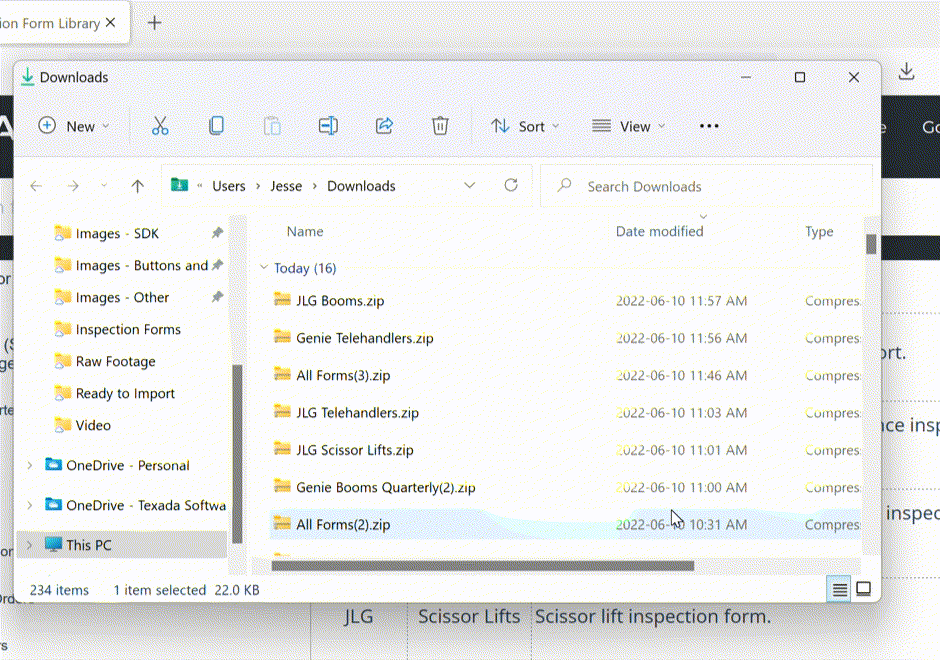 Step 3: Edit the Inspection Form
This step is totally optional. At this stage, you can edit your inspection form in a spreadsheet software of your choice, such as Microsoft Excel.
Keep in mind that SRM requires all forms to be in a specific format for importing, so make sure to stick to the existing format of the spreadsheet and save it as a .txt file when finished. If you don't, your import might fail. But don't worry! You can still customize your inspection form after it's imported, so if you don't feel comfortable working with the .txt file, don't sweat it.


Step 4: Import Inspection Forms into SRM
All right, you've got your form ready for importing. Let's walk you through how to get the form into SRM.
Log in to Texada SRM.
Click on System Maintenance→ Configure System→ Settings→ Operations→ Inspection Forms.
Click on "Export/Import".
Click "Browse…" to open up your computer's files.
Locate your .txt inspection form and double-click to select it.
Click "Upload."
If the upload succeeds, you will receive a message that reads, "File uploaded to yourfilenamehere.txt in the data directory." Click "OK" to return to the previous window.
Select "Import," then click "OK."
If the form was formatted correctly, you will receive a message that says, "Do you wish to import the inspection forms?" Click "Yes," and there you go! Form imported!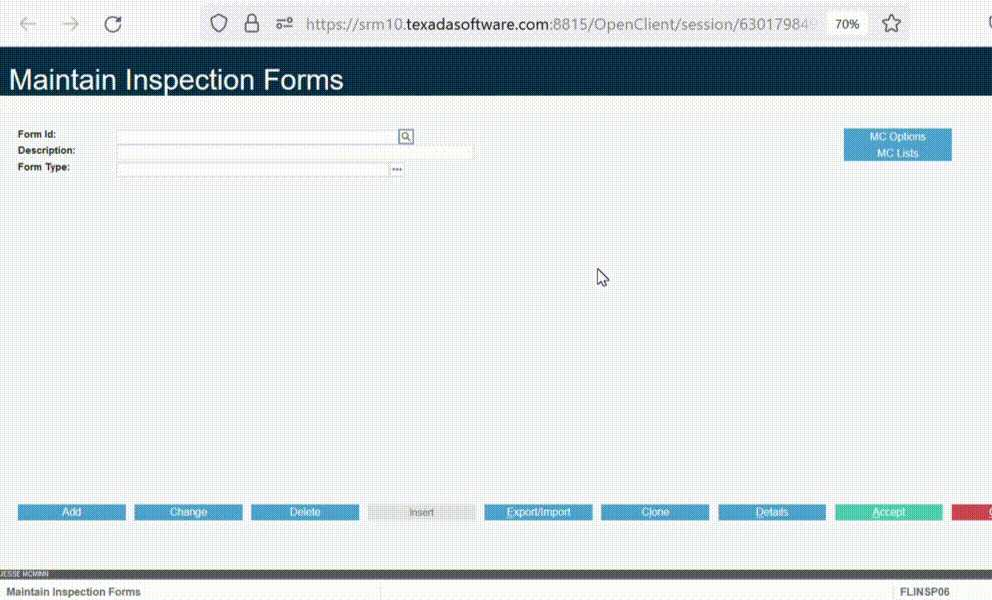 If your form was not formatted correctly, you will receive a message informing you that errors were found. Your browser will automatically download a version of the form with the error messages included in the last column. Once you've reviewed and corrected the errors, head back to Step D to continue the import process.

Step 5: Review Your Inspection Form
Now that you have your form imported, you can review it by clicking the search icon on the Maintain Inspection Forms screen. Find the form you just imported, and click "Details." From there, you can review the form and make any necessary edits, just like a form you would have made in SRM from scratch.
And that's that! To learn more about maintaining inspection forms, click the button below. It'll take you to a help file that will give you the lowdown on everything you need to manage your collection of forms.