"Everybody at Texada seemed to be just as dedicated as we were to making sure that we get transitioned over with as minimal hassle as possible."

Curtis Nickason
Systems Administrator, Trowelex Rentals & Sales

---
Specialty:

Equipment Rental


Area Served:

Castlegar, BC

Company Size: 18 Employees
Website: www.trowelex.com
Meet Trowelex Rentals & Sales "Your Jobsite Problem Solvers"
Trowelex Rentals & Sales has been a family owned and operated business for over 50 years. Each day, they
continue to build on their family's legacy honoring the memories of those who came before them and continuing
the community involvement that has shaped the way they do business.
Trowelex's late founder, Nick Chernoff, started their rental division as a spin-off business from Trowelex Concrete
Contractors Ltd. "People would ask to borrow his equipment overnight, or real quick – like a wheelbarrow or
power trowel," says Harold Chernoff, Nick's son and current owner of Trowelex. "He would do it but would say
he needed it back for his own work. One time, somebody forgot to return a piece of equipment they borrowed before Dad had to go work at 5:30 or 6 the next morning. He then said, 'People have to pay from now on to borrow stuff.'" And in that moment, a rental business was born.
The Situation
When Trowelex Concrete Contractors first made the transition from borrowing to renting, they had
a piece of property where they were holding all the concrete finishing and pouring equipment. It was a
simple small town operation, everybody knew everybody and they didn't need to worry about security deposits back in those days.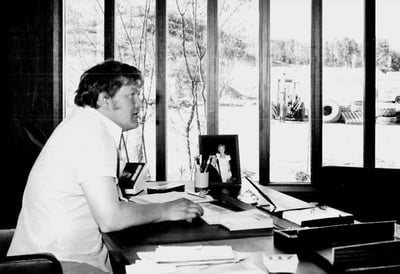 When people started coming around regularly and paying for their rentals, Nick quickly realized that rental was a lucrative opportunity and there was a real demand for the service in the area. Slowly and steadily, the business grew and the family started expanding the rental shop offerings to include lawn and garden and small tools for the do-it-yourself weekend warrior market.
Trowelex was originally sold on using rental software in 1995 to improve inventory tracking and get the books a little tighter. That's when they were first introduced to Systematic Rental Management (SRM).
The Challenge
After decades of working with earlier on-premise versions of SRM, Trowelex was beginning to identify some huge limitations. Curtis Nickason, Systems Administrator at Trowelex says, "We didn't grow along with the software and as the software in our infrastructure was aging, you know, we had some hard decisions to make and so I started doing my
research."
As Curtis started to explore the world of cloud-based rental solutions, he was "able to identify a few shortcomings on our infrastructure around here, issues that I wasn't aware that were actual issues." He was confident that it was time for an upgrade, but he still had to build his case to get everyone on board.
---
"We didn't grow along with the software and as the software in our infrastructure was aging, you know, we had some hard decisions to make,"
Curtis Nickason
Systems Administrator, Trowelex Rentals & Sales
---
Moving to the cloud meant a lot of changes for Trowelex, but Curtis believed the underlying hesitation was caused by a general distrust with technology. "We hear about it on the air, you know, protect your data. hackers are going to get this information and that sort of stuff..." he mentioned as he reflected on the faceless dangers lurking for vulnerability in our cyber-lives.
If moving to the cloud was going to be a success, effectively explaining how SSL encryption works and what measures would be taken to protect Trowelex's data would be critical for Curtis.
The Solution
While exploring the software market to better understand what solutions were available, Curtis contacted one of Texada's Account Executives. Being an advocate for cloud based systems, his goal was to discuss how Texada would handle Trowelex's transition to the cloud.
Once Trowelex made the decision to move forward with the latest version of Texada's rental management platform they instantly started seeing positive results. Right from the project kickoff the Trowelex team felt that "everybody at Texada seemed to be just as dedicated as we were to making sure that we get transitioned over with as minimal hassle as possible. Even the support guys would be jumping into the mix, even though we weren't exactly paying customers at that point in time," Curtis recalled.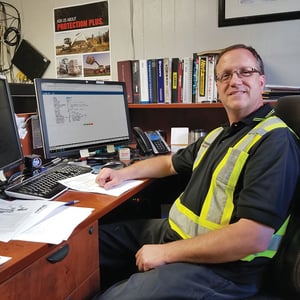 After the transition, Trowelex was able to reduce IT related risks and manual processes. For them, that meant no more worrying about backup schedules and moving backups off-site, or relying on a decaying infrastructure.
By upgrading to the cloud, Trowelex is always working with the latest version of the software, getting access to new features, bug fixes, and enhancements each month rather than years apart. Plus, they have more confidence in their
infrastructure, "We don't have to worry about our server going down. All our data is safe on redundantly backed up servers and we have had zero interruption."
---