5 Ways Paperwork is Delaying Your Billing and How to Solve Them
Over the last decade the business world has been experiencing a technological shift. With most information being created by or input into computer systems, digital documents have become the norm. Rightfully so, as it takes significantly less effort to e-mail a customer an invoice than to fax it.
Begging the question, why are so many field service businesses still dispatching their teams with paper work orders?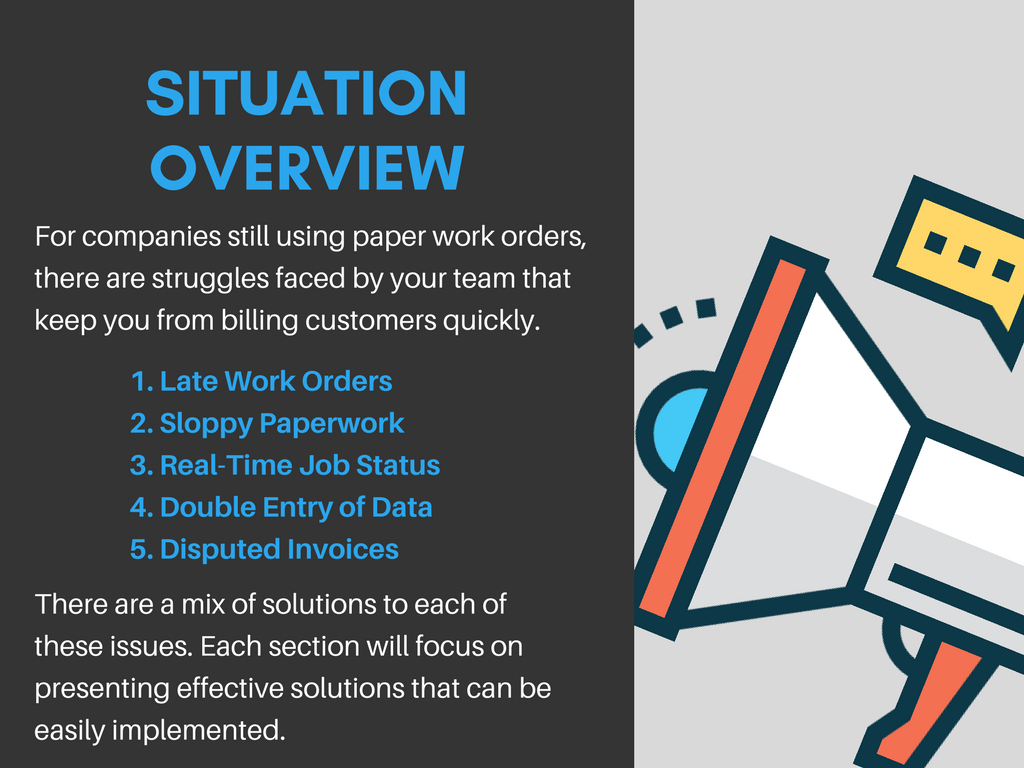 Your ability to bill customers is heavily dependent on how fast you are closing work orders. Paper gets the job done, eventually. Digital work orders are for those of you who want results now, who want to get paid sooner rather than later, and who want to grow their businesses.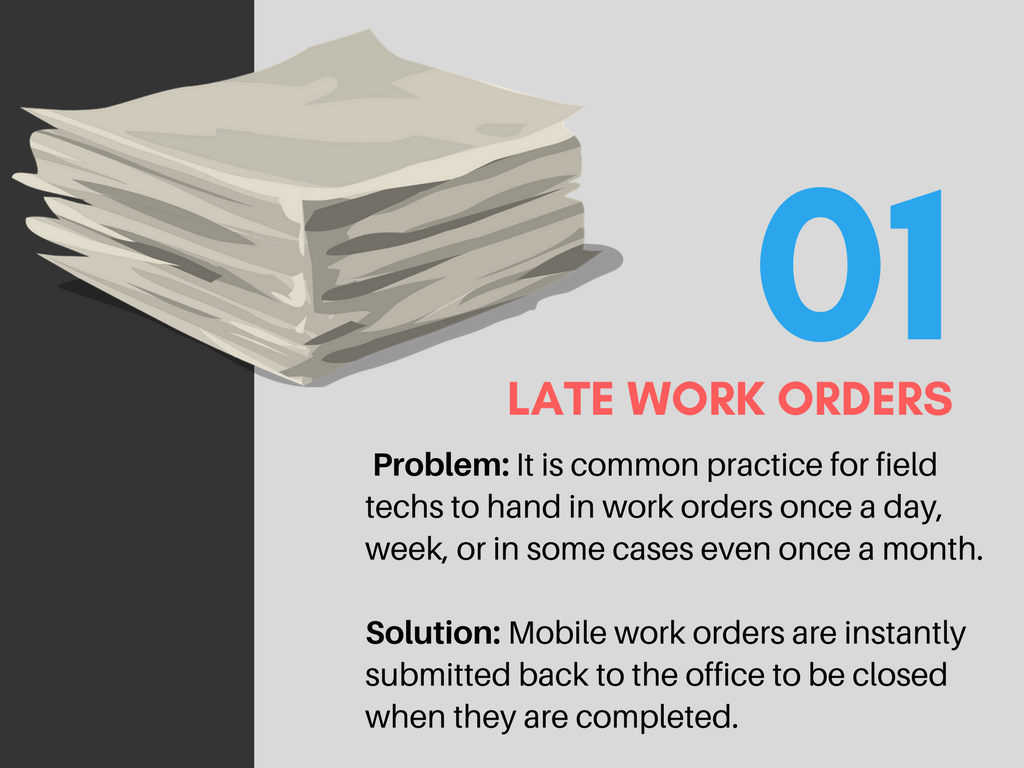 01. Never Be Late to Work
Your field techs may work a job 5 minutes down the road, or in another city hours away. With your current system there is no easy way around this. So how do you regulate timely work order submissions?
Some companies that have not adopted a digital workflow have chosen to implement processes on how often techs should drop off their work orders. Although rules are only as good as their enforcement and many of them continue to struggle with late drop offs.
With digital work orders, techs instantly submit their work every time, regardless of where they are. Allowing the office staff to receive and process the work order within minutes of the jobs completion. Meaning you are sending invoices days, weeks, and even months sooner.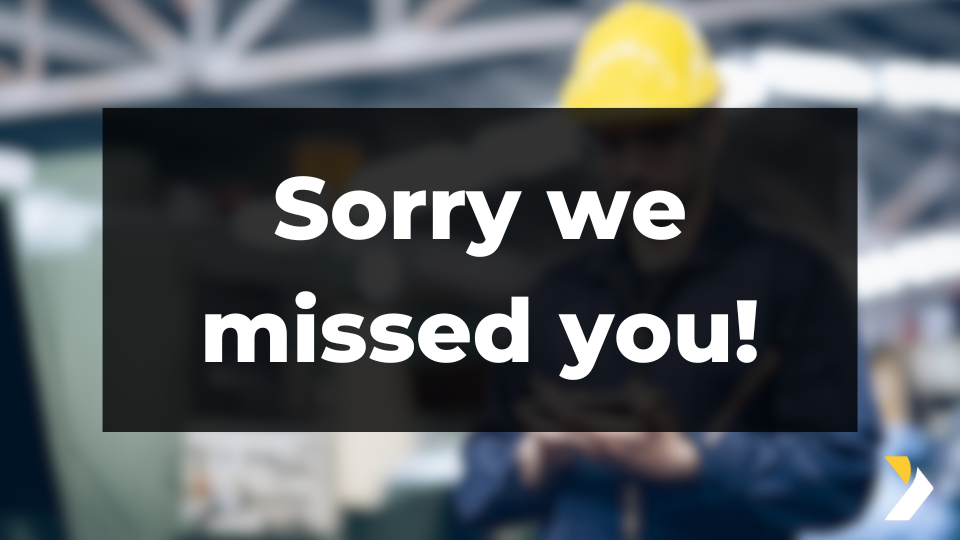 02. Easily Processed Documents
Why are you paying your field techs to spend 10 minutes scribbling down notes, plus another 10 minutes next week when the office staff calls to ask what they wrote? You could be getting easy to read digital documents right from the field in under 2 minutes.
You are supposed to be paying field techs to practice their trade, not their penmanship.
Back at the office, your staff have to spend hours trying to make sense of each techs unique chicken scratch.
Usually they have to track down techs to pester them about what they wrote down about a job days, weeks, or months prior. Then what if they don't remember? That is loss of potentially valuable information.
So how do you maintain clear information? Often the place where clarification is most important is in tracking parts. As a solution to this issue, you may have your techs remove the product bar-code and staple it to the work order.
Alternatively, digital documents are clearly laid out and ready to be reviewed and processed. Meaning you can be sending out invoices the same day as a job is completed.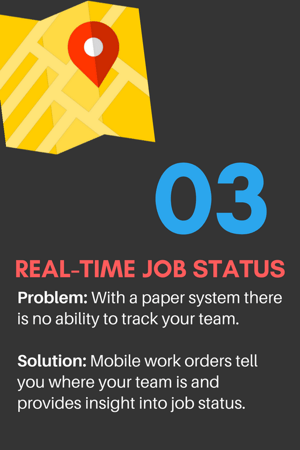 03. Right Place, Right Time
A customer calls and needs a tech ASAP. How do you decide who to send? Is it a gut feeling, a guess as to who should be closest, or is it whoever picks up on the first call?
Regardless, you are leaving a lot up to chance because you have no clear cut view of where your team is in real time.
A lot of companies chose to invest in GPS units for their Fleet. However, the one flaw with this approach is that a GPS system only tells your office team where a service truck is, not what the tech is working on.
With a good digital work order solution, you should be able to quickly view where your team is on a map, what they're working on, and how long they've been working on it. Allowing you to fully evaluate your options when dispatching.
04. Stop Doing the Work Twice
Stacks of paper are coming back to the office to be manually entered into your system. This takes hours out of someone's day to catch up on, but it doesn't have to.
When digital work orders are sent into the office, they don't need to be re-written, because the entire process is automated. All the administrator needs to do is verify that everything is in order and approve it then the invoice is on its way to the customer.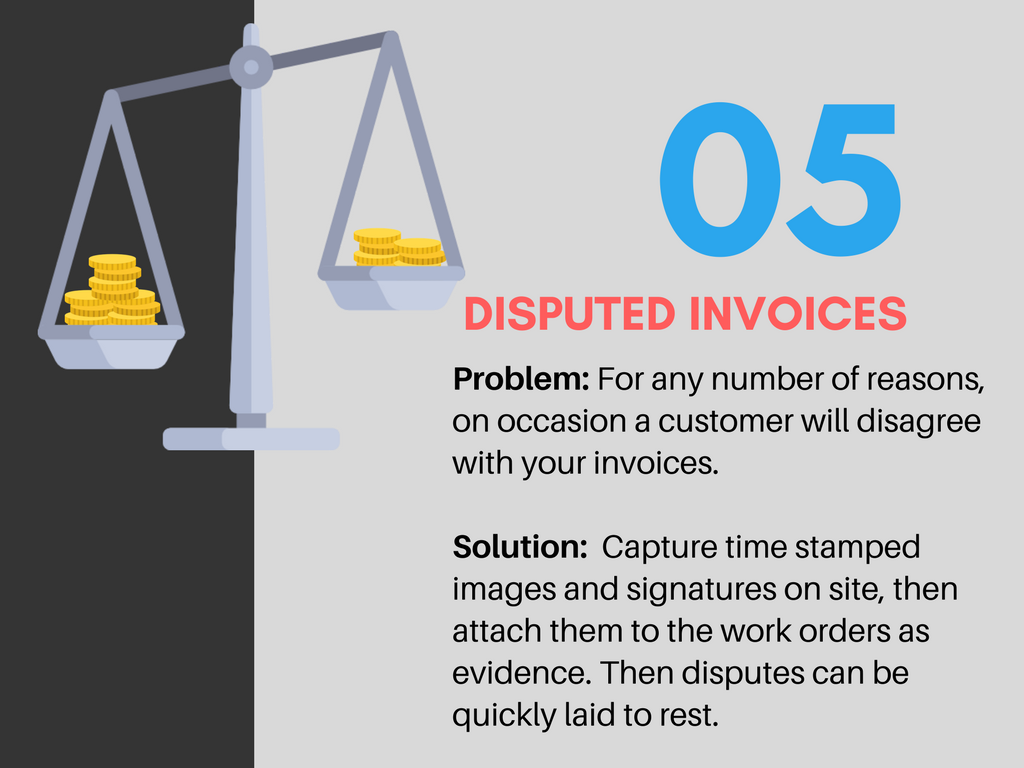 05. Settle Disputes Quickly
It is great to send invoices faster, but there is always the customer who will dispute charges. Claiming they never received or asked for a specific service, or that work was not completed.
Some companies combat this by having techs snap pictures on their phones and giving customers physical copies of the work orders. These are good practices to begin implementing as it can help keep customers honest.
However, some customers will go the extra step and challenge the validity of the pictures that simply in a tech's camera roll or claim they were never given a copy of the invoice.
Luckily, with the robust data capturing capabilities of digital work orders, it is becoming harder for customers to dispute your fees. Having time stamped documentation, photographs, and customer signatures allow you to put billing disputes to rest smoothly and quickly. Keeping your billing cycle on track.